Reflections on Operating Systems and Engineering Mathematics
This semester, I participated in two EMI courses at the department of CSIE, which was Operating Systems and Engineering Mathematics. Although these courses are not directly related to my major in History, I believe they share some similarities in EMI courses. During these fully English-taught courses, I have to pay more attention during lectures than other regular lectures, because English is not my native language. Additionally, since I don't regularly practice listening to English, getting distracted in class can easily lead to missing important content. Therefore, I consider this as a good way to motivate myself to stay focused on the teacher's speaking.
Furthermore, I believe there is a significant advantage in EMI courses, especially in fields like Computer Science whose majority concepts were originated from English-speaking countries. Translating Computer science terms into Chinese can have multiple variations, and the textbooks used in our department are in their original English versions. Hence, having courses taught in English can help me better connect with the content of these textbooks. I believe the same effect can be seen in EMI courses within the History department, specially considering the emphasis on reading historical materials in the study of history. It is not only about the text itself but also understanding the motivations of the authors, which is something we are concerned with. Therefore, EMI course allows for more direct engagement with relevant research and historical materials written in Englilsh, which is definitely an advantage.
Through my experience with EMI courses this semester, I have gained some experience about this new teaching method and reduced my fears. If I have opportunity in the future, I will continue to choose EMI courses.
Reflections of Seminar on Social-Cultural Issues in Modern Hong Kong
I am a student from Hong Kong who majoring in history department. Despite struggling with English during high school, it has made me feel no confident about using English in my daily life. To improve my English skills and gain more exposure to the language, I decided to join an EMI tutorial called "Seminar on Socio-Cultural Issues in Modern Hong Kong" in this semester. In this course, I can contribute some relevant information and historical background to my classmates from Taiwan and other countries during group assignments and discussions about Hong Kong topics. On the other hand, interacting and discussing with international students in the group project gives me the chance to practice English and work together on our course projects.
This course has attracted students from different parts of the world, such as Europe, the United States, and Japan. It has been an eye-opening experience for me to communicate with students from various countries. Besides our interactions in class, we also have opportunities to get to know each other's cultures and enhance our understanding during our free time. Not only has this widened my international connections, but it has also boosted my confidence in using English in daliy live.
From what I've observed, many Taiwanese students actually have a good grasp of English fundamentals. However, due to limited opportunities to use English in their daily lives, they often struggle to express themselves fluently when interacting with foreigners. EMI course is a valuable opportunity to interact and communicate with global students, in addition to enhancing their professional English proficiency, it also improves their conversational skills a lot. Therefore, based on my own progress after this semester, I highly recommend other students at normal university to take advantage of the EMI courses during their college years.
COURSE REPORT
National Taiwan Normal University (NTNU) has been focusing on promoting 'English as a Medium of Instruction (EMI)'to strengthen students' English language skills and improve international competitiveness in higher education. I have directly benefited from the EMI programme offered by our university; in addition to reading English theses every week, I have had the opportunity to discuss English with others in my class and practically apply English in the historical analysis.
The term 'English as a Medium of Instruction (EMI)' refers to the use of English in order to teach academic subjects in countries where the majority of the population does not speak English as a first language. The first language of instruction is Mandarin in Taiwan, it is the predominant language of instruction in universities, high schools, and elementary schools; however, with the flourishing of English as a mode of education worldwide, and with English as the most popular language in the world, it would be beneficial to Taiwan's students if the National Taiwan Normal University could take the lead in moving towards bilingualism to increase its international competitiveness.
Although English is a tool for communicating with the world, it is not our mother tongue and requires effort to learn. Ideally, a fully English-taught program has many benefits, such as improving cross-cultural communication, increasing global awareness, enhancing competitiveness for employment, and global ranking of universities. However, in practice, EMI also faces unprecedented challenges, such as the inability of some students to absorb professional knowledge due to their lack of English proficiency.
To address these issues, piloting bilingualism from the university will help students adapt to EMI learning by ensuring that university students have adequate English proficiency on the one hand, and hopefully their professional learning will not be affected by non-native learning on the other.
It is noteworthy that Professor Lin Xin-Yi had built on this foundation with great success in my personal experience, allowing each student to discuss the history of Taiwan in different historical periods, ranging from the Dutch Formosa to modern Taiwanese history and cross-strait relations. She also gave each student at least one opportunity to give a speech on stage, so that each student can experience an international learning experience that combines history and EMI. In addition, she also organised outdoor teaching of history and English recitation competitions, which were not only lively and interesting, but also contributed significantly to the enhancement of students' English language skills. Given the success of the school's EMI programme, I hope that the History Department will be able to offer more diverse history EMI programmes in the future so that more students can benefit from them.
Finally, I believe that in addition to the provision of more EMI courses, in order to align with international standards and communicate with other international academic communities, there should be complementary support such as an English website, bilingual essay writing and English training to make up for the shortcomings of the EMI programme and allow for effective continuation of the whole bilingual system.
Reflections on Seminar on Masculinities through the Ages
It was such a big challenge for me to take EMI course this semester because I had never taken any all-English class before. Prior to this semester, all the courses I took were lectured in Mandarin. What I expected this course could give me was, in addition to historical knowledge, to improve my English speaking and reading skills.

The first thing I would like to share was the improvement in speaking English. At the outset, I felt stressful and nervous during the class since not only Ms. Lu lectured in English, but we also were required to discuss in English. It was challenging for me that I had to speak English in public until the end of course every week and tried to understand what did everyone talk about as much as I could. After a couple of weeks, little by little, I found that I was more accustomed to this course than before. We were asked to talk in English, I, therefore, had to express my idea in comprehensive English during the thirty minute discussion section every week. I did not dare to utter a word initially, but I still cannot believe that I could do the guided reading on the stage for at least 20 minutes myself at the ninth week.

Moreover, the topic of this module, "Masculinities through the Ages," was quite interesting. Unlike history of woman, this module concentrated on how masculinity was like in different eras, namely how men proved their manhood. It demonstrated another possibility to observe and interpret history. Take my guided reading article written by William Aird for example, it discussed about the quarrels between King William the Conqueror of England and his eldest son, Robert Curthose from the perspective of father-son relation. In other word, we might have reflections on our research through this approach.

All in all, I find that I have greatly benifited from this EMI course although sometimes I still cannot fully understand what do Ms. Lu and the other classmates talk about. Not only do I advance significantly in my English listening and reading skills, but I also learn a new historical approach to research and have careful reflections on history I learned before.
Review of the EMI course
This is my first time taking a course with English as the medium of instruction. When I selected the course, I didn't realize that it was all in English. I was really interested in the topic of the class, so after I realized that it is an EMI course, I still decided to take the course, instead of withdrawing from the course. Taking course with English as the medium of instruction is a big challenge to me, because my English level has dropped a lot since I went to university. In my daily life, I rarely have the opportunity to use English, and all the courses I take are in Chinese and Russian, sometimes there may be English texts, but the lecture and discussion section are all in Chinese and Russian. Consequently, at first, I was not very accustomed to the teaching method, especially in the discussion section. I am terribly afraid to express my opinion in public or with people I don't know well, even in my native language, let alone a language I've almost forgotten how to use. Even a few times when I wanted to speak my mind, I couldn't help saying it in Russian, because in everyday life I speak Russian more than English, and I always forget how to express myself in English. After taking more classes, I gradually understand that I need more practice to try to express my thoughts in English, although it still takes a lot of courage for me for me but I am still trying. And I think that the course with English as the medium of instruction is a great opportunity to improve my English skills, especially listening and speaking. During the lecture, I can practice listening to British accents I'm not familiar with. On the other hand, I can try to express my opinions to my classmates, and the teacher also encourages us to speak up. This kind of environment also makes me feel less stressed.
EMI review
For most students in Asia, English is one of the most common subjects. We spent a lot of time studying for the written tests, vocabulary, and grammar. However, despite the fact that we have been studying English for more than six years, many people are still struggling with speaking with confidence and communicating in English. Because we don't use English in daily life and don't have the appropriate environment. If you want to learn more and enjoy learning English, you may now enroll in the EMI course.
Although you may have doubts, I did as well. However, those judgments will be gone once you take your first step. Fear of the unknown has always been the greatest difficulty for us to encounter since learning in a second language is out of most people's imagination. Finding a companion is the greatest approach to overcoming fear. The instructors at NTNU are helpful and pleasant. Additionally, your peers are experiencing similar levels of confusion as you are, and most importantly, the internet is your finest resource for learning the knowledge you require. Trust yourself, and don't give up when you're feeling down and alone. You can discover a way out.
Many people believe that learning English will help us make more money. Possibly not. But knowing how to speak English and reading a book written in English could really open your mind. You could find a point of view that you have never heard from a Chinese speaker. You could appreciate the beauty in poetry and poems in other languages. You will find that not everything gorgeous and persuasive in the world can be translated into your mother tongue. Acquiring new knowledge and gaining a different point of view to look around the world is the pressure of language learning.
Review on EMI lecture
For the experience in EMI lectures, this was actually not my first time to choose an EMI lecture. But for the second time, it was still as rewarding as the last time. With the topic being masculine history, it made me very interested in this specific field of knowledge, and let me understand the many aspects of masculinity throughout history.
In comparison with the last time, because the people in this lecture are more in number, so the experience in this lecture was less interactive, despite the professor of this lecture did leave us some time to discuss on our own, but since the amount of required reading was too much, so it was difficult to have some very focused discussion. And on top of that, the part of the solo presentation was very hard, and it was very challenging whether to understand the article, or to do the presentation completely in English. Although the concept of masculine history decided that the lecture was far from being easy to understand or to participate in, I think there were still some elements that the professor could improve.
However, I still had fun in it, whether to understand the changing of concepts in masculine history, or to interact with other participants in this lecture, they all made me want to join in the discussion. I think that is the spirit of EMI lectures, the ability of not only reading English articles and writings, but also the ability to interact and communicate with others in English.
With this experience, I am now more interested in participating in more of the EMI lectures in the future, not only for learning new knowledge, but also for having experience in cooperating with other people, and to have a better reward for it. I think the opportunity is worth grabbing for myself.
Review on the Seminar of Masculinities Through the Ages
This seminar is one of the EMI course that I have taken during this semester, and this is my first time to take Professor Lu's course. At first I was a bit afraid that it will be too harsh for me to take two EMI courses at the same period of time, due to the workload of assignments and presentation. Instead, This class made me feel relaxed and learned a lot at the same time.
I used to have a vague concept about masculinity.If you ask me what is the image of a man, I would only say that they are tough, strong and always be the leading role in the society. However, under the file of history, there are actually different definitions of masculinity through different ages. In the assigned reading that I'm going to present is related to the masculinity during war period in 19-20 century. Quality for being a soldier were the ideal masculinity which required a strong body shape and the use of violence in the battlefield in order to be more benign at home. And the principles of masculinity usually affected by various factors such as religion, race etc. This breaks my previous stereotypes about men and try to use a multicultural perspective to see masculinity.
During the lessons, we have got a lot of chances to discuss about masculinity through ages according to the reading passages. Since I'm not familiar with all topics, this encourages me to raise questions and solve it with my classmates and Professor. Moreover, some of them are the exchange students from Europe and even experts on the research of gender studies. Their opinions and accents always amaze me because it sounds like they are really enthusiastic about these topics and well prepared for the discussion. That's why including the knowledge that learn from the professor's lectures, I am also inspired from my classmates and push me to do better and more willing to express my view in the discussion.
The days in Seminar on Masculinities through the Ages
This wasn't my first having EMI courses, but I truly had a totally different experience during Seminar on Masculinities through the Ages.
First of all, our course divided into three sections, Ms Lu lecturing at first, and then classmates presentation, class discussion of the assigned reading at last. Last semester I had the course "Seminar on Teaching Taiwan History", which was taught by Ms Lin. At that class everyone have to prepare a lesson to lecture, and the remaining time every classmates have to raise their opinion on the lesson, and the student who presented would try to answer the question. Comparing to the two courses I have taken, I think that it good to hear the lecturing from Ms Lu, because I have no idea what masculinities is. Her lecture is always clear and interesting, isn't hard to understand, it will make you be more confident of your English. But in the discussion session, I consider that everyone read the same reading and raise the opinions is better than group discussion. It is because sometimes people just didn't try to raise their questions and make the discussion into silence. However, group discussions still has its advantage—it promote people exchange their ideas, so if you are willing to share your thoughts, you can easily make the friends with your group members. There is one more difference between these two courses, that is there are four foreigners in the class, so we have no chances to discuss in Chinese, it really make my English improve a lot, and because I make friend with one of the German classmates Karin, we do some language exchange after classes, she really give me a lot of confidence to learn English. Just like Ms Lu have said," You give me a word, and I give you sentences."Thanks for everyone trying to help me be confident in speaking English, it's really a great experience.
REVIEW OF EMI CLASS IN NTNU
I'm a student of department of History from NTU. This semester, I took an EMI class─Seminar on Masculinities through the Ages─ at NTNU. Following are my thoughts of this class.
It was an accident to take this class. In this summer vacation, I listened Prof. Lu's interview on the podcast ' Afternoon Girls' Club' by chance. Out of admiration for Prof. Lu and the curiosity about 'masculinities', I took this class without knowing it is an EMI class, which is ALL taught in English. At the same time, I even invited my friends 冠貽 and 政偉 to take this class together. Due to my lack of confidence in my English ability, when I knew this bombshell, I was so scared and nervous that I wanted to flee away. Fortunately, my dear friends, 冠貽 and 政偉, persuaded me to stay. After their enlightenments, I turned this class from difficulty to a chance to step out of my comfort zone.
Objectively speaking, the load of this course is not too heavy. We only need to read 20-40 pages assigned reading per week, participate in discussions, do a 30 minutes guided presentation on an additional reading, and talk to professor about masculinities for 10 minutes at the end of this term. Among them, the guiding was the part worried me the most. It is strenuous enough to me to understand the assigned readings every week, not to mention to guide the reading in English to the whole class! Therefore, I prepared this presentation 2 weeks, wrote a speech of nearly 2000 words, and felt anxious day by day. Although the process was very difficult, and the results were not excellent, I am proud of myself that I am able to do a 30 minutes English presentation. It is such an obvious improvement!
As you can see, my review focuses on the mental journey of why I chose this course and the progress in my English ability. However, the 'masculinities' isn't mentioned at all. The reason is my poor English, which makes me hard to have deeper understanding and prevents me from expressing my point of view. To solve this problem, I am reading 'Toxic Masculinities' written by Prof. Lu to clarify the development of masculinities, and I think it is quite useful!
To sum up, this class is very specific and interesting, and even better, the professor's speech is clear and humorous. If you are a student whose English is not that good and scared of speaking English, don't worry too much! You will progress and gain a lot as long as you spend more time and effort than others. It was a precious training, no matter for my English ability or my toughness. Thanks a lot to 冠貽 and 政偉, and thanks to myself for making the brave and right choice, too.
Review of Seminar on Masculinities through the Ages
The seminar consists of three parts: The first hour of class consists of a lecture, followed by a guided reading prepared by a student. In the end there will be a discussion of the topic.
In the lecture, the teacher tells us about the planned topic with the help of a PowerPoint-presentation. The lecture is very engaging and interesting and is presented in a relaxed manner, which is not stiff at all. The teacher's enthusiasm for the topic comes through and gets the students more interested in the topic as well. The PowerPoint is also available on Moodle afterwards for review, which is also appreciated. The only problem here is with the acoustics of the room. Unless you are sitting at the front, understanding the teacher was rather difficult even though she uses a microphone.
The guided readings are basically presentations prepared by the students. In those, the students present a chapter provided by the teacher for around 30 minutes. On the one hand, it is good that the teacher provides what should be presented, especially since the students can choose the broad topic they want to present. On the other hand, 30 minutes per presentation seems to be a lot of time and could be shortened down a lot.
The discussion part of the class consists of the class being divided into two big groups and then discussing possible questions we have about the topic. But there are a few problems with that. For example, there is often the situation, that everyone is just silent and waiting for someone to say something. This can as well create an awkward atmosphere, aggravating the situation. Even having read the assigned texts, that doesn't mean that you necessarily have questions about it. And even when it comes to a discussion, the room acoustics are still not very good. That means that you don't hear what the other person is saying unless you sit next to them, or they are speaking very loudly. In the end, the most noticeable obstacle for the class seems to be the room the class is in. The discussion could also need more incentives, or a pre-established question to use as conversation-starter.
My first EMI course─Improving my English speaking skills
Most people's English proficiency would have peaked in high school if they hadn't majored in English in college or been exposed to English-related audio and visual media, such as listening to English-language radio and watching English-based movies. After high school, in my own experience, apart from watching American dramas, there are only required English courses and English history materials left. With the trend of globalization and the introduction of bilingual education, English proficiency has become a necessary skill for everyone. However, in the past, English education focused almost exclusively on reading and listening skills and lacked speaking skills. Before I started taking classes, I was quite intimidated because I had never been exposed to an all-English course before.
However, in the past, English education was almost entirely focused on reading and listening skills, with little emphasis on speaking. I was quite intimidated before starting classes because I had never taken an all-English course before. However, it was not as difficult as I anticipated. First and foremost, you should not be afraid to express yourself in plain language. Second, when preparing your report, you can prepare a draft, check the pronunciation of unfamiliar words, and keep practicing. Third, ask your teacher any questions you may have during class or report preparation, and he will be happy to help you with them as well as listen to student feedback to adjust the class.
During the EMI program, I had more opportunities to practice my English, particularly my speaking skills, which was a very valuable experience because there are very few opportunities to use English in Taiwan, where Chinese is the primary language. By taking advantage of the opportunity to speak English in class and becoming accustomed to speaking English, you may find that you are less afraid of speaking English when the time comes. Taking the EMI course has given me the confidence to speak English and has helped me improve my English skills.
Feedback of Seminar on Modern Western Historiography
After two years of college, I finally took my first EMI course. I was hesitant to attend the EMI course because, like other students, I was concerned that my English skills would not allow me to handle the English course. Anyway, I ended up taking the course since I desired a new challenge this semester (and honestly, because my buddies were in the class).
"Seminar on Modern Western History" was also the first seminar course I ever took. The students were organized into six groups of two or three students who presented to the class in turn. We focused primarily on Thinking about History, a book covering the approaches of historiography. Each group was required to make a presentation based on a chapter from the book, and each group had a total of five presentations. At the end of the presentations, the other students will discuss the questions posed by the presenters. Then, students in each group will take turns commenting or answering the questions.
What I learned from this class was somewhat similar to the mandatory course "Introduction to Historiography" that I took in freshman year. I reflected on what I had learned two years ago and applied it to my presentation. By comparing the two courses, I was able to think more deeply about historiography, which was really helpful. As we discussed the approach to historiography in more depth, it became more like a philosophical debate for me. Take, for example, the question posed in class: What is the importance of historiography? Is it possible to separate historiography from politics?
On the other hand, because I had to meet the course requirements, I spent a lot of time reading and speaking English. As a result, my English skills have improved. The most difficult aspect at first was giving a five-to-ten-minute speech in English. Even though I drafted my speech word by word, I was still anxious before my first speech. As it turned out, I was too worried and it turned out well. Like Mr. Chen said, this class is an English-friendly place. The teacher encouraged us to express our ideas in complete English sentences and to read references in English. I had to write a speech before each time I stepped on stage, but after a few practice sessions, I became more confident. I appreciate myself for taking this course since it has given me new experiences.
How to think about history──Valuable experience of Modern Western Historiography
When I deliver presentations in front of an audience, I always feel nervous. I get considerably more anxious when I present in English. However, I consider it a wonderful opportunity for me to join the Seminar on Modern Western Historiography this term and develop my English speaking and writing skills.
It is a requirement of this course that all students prepare presentations in English and share their research and studies in English. All group members gather during group talks to brainstorm, share personal viewpoints, and ultimately come up with a group conclusion.
Our primary text is Sarah Maza's Thinking about History. This book has helped me to extend my perspective on history and think about it from new angles. For instance, Sara Mazza notes in Chapter 2, "Displacing Europe and America," that while discussing world history, historians frequently concentrate on European and American history. Some studies claim that when we talk about "modernity," Europe and the United States are responsible for making other nations modern, but this is untrue.
Because modernity in many countries differs from that in Europe and the United States, as Sarah Maza points out, modernity in those two regions is not the same as modernity elsewhere. My belief is that throughout the Japanese era, Taiwan underwent a modernization process. The Japanese government's modernization initiatives in Taiwan were largely inspired by the Meiji Restoration in Japan. Although Japan's modernization experience was derived from Europe and America, the Japanese absorbed Western knowledge and blended it with native Japanese knowledge before passing it on to Taiwan. In other words, rather than Europe and America modernizing Taiwan, it was Japan that did it.
Additionally, when historians attempt to understand the causes of historical events, some historical topics emphasize humans at the expense of the environment. However, others contend that the environment has had a significant impact on history. Still others contend that humans and the environment have interacted to influence one another. Throughout my reading, I tried to find papers that explain the reciprocal interaction between humans and the environment. Take Taiwanese history in the early 20th century as an example. Typhoid fever was once endemic in Taiwan and was spread to people by insects and feces. Taiwanese people defecated everywhere or dumped waste into rivers during the Qing Dynasty, which contaminated the water and contributed to the typhoid outbreak. During Japanese rule, in order to curb typhoid, the Governor's Office promoted the idea of hygiene and built toilets to reduce the possibility of contracting typhoid.
The course has been a valuable experience for me. The course has broadened my horizons in historical studies. For sure, I am more comfortable and confident when speaking in English in public.
Reflections on the EMI class:"Seminar on Modern Western Historiography"
English has increased in importance in the era of globalization. For me, English is more than just a subject; it's an essential component of daily life. But I don't often get the chance to use English in my day-to-day interactions. Therefore, it's nice that I can have an opportunity to join the EMI Class "Seminar on Modern Western Historiography".
In this seminar, we discussed "The History of Whom?", "The History of Where?", "The History of What?", and other questions as we read Sarah Maza's book, "Thinking About History." We would take turns summarizing each chapter each week, exchanging ideas and opinions, and posing questions for discussion. Thus, we can simultaneously practice our hearing, speaking, reading, and writing skills in English.
Professor Chen always encourages us to speak up in class and creates a relaxed atmosphere. The most memorable and favorite aspect of this class for me is that Professor Chen will join us throughout the discussion so that I can communicate with him more effectively. Second, every time I give a presentation, Professor Chen always provides me feedback on how to improve my performance. Furthermore, he will provide us additional reading to read so that we may learn more after sessions. Finally, we have two guest lectures each semester. In other words, we can learn not only from Professor Chen and our classmates, but also from Professor from the University of Warwick and Academic Sinica.
Overall, the class is not stressful. On the contrary, I am really glad that I joined Professor Chen's seminar this semester because I have benefited greatly from the course. E. H. Carr says that history is a never-ending dialogue between the present and the past. However, history is also a never-ending dialogue between the East and the West. Understanding Western historical methods or ideas broadens our research horizons, and vice versa. For me, as a student of Chinese history, learning Western historical methods has indeed broadened my research horizons.
Last but not least, besides the Western Historiography, the most significant thing I have learned from this seminar is that it forces me to reconsider "What is History?" and "What is the purpose of studying History?"
The review of Seminar on Modern Western Historiography
This course was a great learning experience for me. Sarah Maza's book Thinking About History taught us about modern Western historiography. Sarah Maza wrote the book Thinking about History.
We were separated into 6 groups for this course, and each group had to complete 5 guided readings. This was a difficult task for me because I am unfamiliar with historiography and speak poor English. As a result, I was concerned about my ability to complete the assignment. My group members, on the other hand, continuously encouraged me and reminded me not to give up on improving my English-speaking skills.
When I was preparing for one of the guide reading sessions, I discovered that there is a distinction between idea and intellect. I used to think the two words meant the same thing. Maza, on the other hand, emphasized that, while idea and intellect are both abstract concepts, they are fundamentally different.
The main distinction between them is that the intellectual history situates them in their current context. Using Machiavelli as an example, we all know that Machiavellianism describes how the king used tactics to keep his throne. Sarah Maza suggests that if we only talk about it, it might be classified as an idea. If we want to go beyond mere description, we could say Machiavelli was born in the 15th century, a time when if you desired a position in the kingdom, you had to make your writings appealing to the ruler. In this context, we might better understand why Machiavelli wrote The Prince, because he wanted a job. This example illustrates how combining ideas with contexts can lead to a more dense and thorough intellectual history.
In the end, I'm really glad I chose this course, not only did it allow me to meet great members and friends, but it also allowed me to try to think more deeply about history.
Thinking about the EMI-Course
After three months of taking the EMI-course (Seminar on Modern Western History), I have mixed thoughts about the course.
To begin with, as college students in Taiwan, we don't have a lot of time to speak English with others, especially foreigners, but this course provides an environment where every student can speak English without anxiety because the teacher is friendly, patient, and always encourages students to speak English.
The second is about a PPT presentation in class. During the course, we need to prepare PPT slides to present our assigned reading content, which will take around 5-6 minutes. During the presentation, students pay attention not only to English expression, but also to how to use slides to convey ideas effectively. For example, we examine whether the slides could be strengthened with images, or whether it would be better to use only text. All of this helps us think about how to communicate ideas well in a foreign language.
Last but not least: asking questions. After reading the assigned text, each student has to ask at least one question about the text. Other students will then answer the questions posed by the speaking group. In this process, students can reflect and think about historical issues through English.
However, by the end of this article, I strongly believe that the EMI course should only be adopted in courses of Western history. In my perspective, implementing the EMI method in 'Chinese' or 'Taiwanese' history is unacceptable, since it is exactly self-colonization. This arrangement makes us submit as if willingly to the hegemony of the English language. The Taiwan history curriculum is currently taught in English rather than Taiwanese. This is ridiculous and disrespectful. I am opposed to using English as a criterion for teachers. Because there will be teachers who are fluent in English but are unable to teach or conduct research in this manner. This is completely unacceptable to me.
The Feedbacks of Seminar on Modern Western Historiography
Before this course, I never thought of practising my English by choosing an EMI course. In the past, the way I practised English was mostly by reading newspapers and news. However, this only trained my reading skills.
So, in this term, I chose this seminar to improve my listening and speaking skills in English. We studied the historian Sarah Mazza's book Thinking about History. This book discusses modern Western historiography. Even though I have not read the original work, I was able to learn the basic concepts from reading this book.
For example, does modern mean Euro-American? On this issue, we know that professional historical scholarship arose during the heyday of European imperialism. Because the history of Europe and America was the first, historians would think of the history of other regions in terms of Europe. It is not at all surprising that for people in the nineteenth century to think of the history of other regions in such terms. For they were standing on their own feet. The cultures of Africa and Asia should have been like those of Europe. These regions should have had the Renaissance, the Enlightenment.
But contemporary historians have noted that it is from this perspective that the history of other regions is read, studied and learned. The article goes on to say that the modes of interpretation developed in the West often make little sense when taken out of context. We can misinterpret the histories of other regions and local histories can be superseded. They would be like the Europeans and Americans.
When we think of the term 'modern', we should be careful in using it. This is because this word can stand for Westernisation. In many areas, because of modernity, we prefer the West; in other words, we can lose our traditions, our culture. We see our culture through a Western lens.
Indeed, modern questions are interesting. But in the 21st century, historians and university students are always wondering, "How do we find the particularities between history and other disciplines, like sociology and anthropology?" I think this discussion is about the way, how people understand knowledge; how historical knowledge is produced.
Sarah Maza points out that in the 19th century, historians studied history using deterministic causal thinking. They saw history as a science and studied it like a natural scientist. In other words, the methods of the natural sciences could be applied to history.
Can the methods of the natural sciences be applied to history? Besides Sarah Mazza, we can see another historian, R. G Collingwood (1889-1943). He was an English historian. He wrote that the study of positivism distorted history by treating historical facts as natural scientific facts. These two facts are confused.
Scientific fact can be experienced, he says, and people can make it reproduce. But historical facts are based on a large number of inferences and assumptions. There is a powerful system and complex rules behind these inferences and hypotheses. If we confuse the two facts, history and science, the methods of the natural sciences can be applied to history. This is why Collingwood says that history is distorted by positivists. The definition of 'fact' needs to be reconsidered.
In Collingwood's book, The Idea of History, he points out the difference between these two facts. I think there is a specificity between history and other subjects. Finally, I think that my English skills have improved by choosing this course, not only in reading but also in listening.
Review on the Seminar on Modern History Historiography History
This seminar is one of the EMI course that I have taken during this semester, and it is grateful to have an opportunity to be the teacher assistant of the class.
During the seminar, all of us were divided into six groups for presentations and discussions. All the topics for our presentations were based on Sarah Maza's book Thinking About History. As we were asked to complete five presentations during the semester, my group and I were divided into different tasks which included summarising, elaborating and brainstorming some interesting questions for the discussion. These tasks helped me to improve my ability to interpret texts or learn to cite historical sources to support my arguments. It so happened that one of my group members was an exchange student from Japan and we talked a lot and exchanged ideas about Hong Kong and Japanese cultures, which was quite an unforgettable experience that I came across in this seminar.
In addition, I benefited greatly from being the teaching assistant in the class. I remember that in the first few weeks of class, most of us were afraid to share our views in front of others, so we were all reluctant to speak, resulting in the class always remaining silent after the professor's talk. As a result, I discussed the issue with some of the students in the class and shared my views with the professor. After that, the professor made some adjustments and allowed everyone to report in small groups, so that everyone became more willing to express their views. Since then, I have realised that being a teacher's assistant is not just about announcing some updates or news in class, but also about coordinating ideas between the teacher and the students.
It was such an innovative experience studying in this class, apart from learning historical knowledge, I have also gain much confidence and courage to overcome more challenges in the future!
Opinion of Seminar on Modern Western Historiography
The course I took was the Seminar on Modern Western Historiography in the 111 academic year. Following is my reflection:
This course is based on Sarah Maza's Thinking About History to explore the development of modern Western historiography, including History from Above, Social History and Quantification, Global History, The Changing History of Ideas, The New History of Things and other topics, from which you can get a glimpse of Western history The development of historiography and its relationship to the development of society. In the modern West, for example, the development of new fields of history such as cultural history, gender history and social history will be a reflection on traditional historiography such as political and military history, and it is also a reflection on traditional historiography. The context can be made clearer by current ideological trends and social conditions, such as: socialist ideology and capitalism.
The class is divided into two parts: group reports and group discussions. First, three groups read and report on the theme of the book each week, and then the other groups discuss the issues raised by the reporting group. The group reports allow you to listen to each student's interpretation of a chapter in the book from a different perspective, such as linking archival history to the history of Taiwan, or finding similar examples from Chinese history or the history of ideas.
The group discussion is then a discussion of the issues raised by the students in that week's presentation, with other groups in the non-reporting group giving their views on these issues. Apart from exchanging views with other members of the group, it is also a good opportunity to hear the views of other groups on the issues to broaden your horizons and help your understanding of the issues.
In summary, I have learnt a lot from this course.
Reflections on Seminar on Modern Western Historiography
This semester, I take this course and read one required chapter of Thinking About History written by Sarah Maza and discuss it in class every week. I find that I have greatly benefited from this class and its reading.
Firstly, reading English articles every week improves my reading skills and this improvement is quite noticeable. By reading English articles every week, I am able to grasp the arguments that the authors are trying to tell us much faster and more accurately than before. In addition, each group has a presentation and guided reading every fortnight, so this is certainly a good opportunity to practice speaking English in public. Before this term, I had not had any opportunity to speak English so often. By speaking English in public almost once a week, my speaking skills have improved greatly and I can speak English more confidently than I used to. Finally, and this is the most important point for me, which I must not overlook, I got a lot of inspiration from this book. Every chapter that Maza sets up for the reader is useful. For example, in the chapter "How History is Produced" she discusses how these sources and archives are produced. While reading this chapter, I also reflected deeply on my own current research and the sources I was reading. With this book she reminds me of the nature of the sources, such as who wrote the book, when he or she wrote it and why these events were written down. This might have led me to understand and interpret the sources in a rather different way. In other words, reflecting deeply on our research was the most enlightening idea Mazza gave us.
To sum up, not only does this EMI course benefit my English reading and speaking skills, but it also enables us to reconsider our researches through every topics she sets in her book.
In addition to historical knowledge——Reflections on the all English curriculum
There is no doubt that all-English courses always make me nervous. Unfortunately, I took one this term, namely Women Through the Ages. With my rather limited knowledge about women's history, the module posted a real challenge for me. As the course progressed, I found myself lacking the ability of presenting my train of thoughts in comprehensive English. When it comes to discussing certain topics in English, my usual ability of 2-hour-non-stop discussion, in Chinese of course, was reduced to 5 minutes. I was often unable to translate the sentences which I wanted to say in Chinese into English during the discussion, even though I knew the words and used them frequently in reading and writing.
Not only English, but also the topics of the module seem overwhelming for me. Although I have attended numerous ideological and political history courses before, the women and gender remain uncharted areas for me. In my opinion, they are very interesting but a difficult challenge. Since Miss Lu's expertise is legal history, the module focused on legal issues and property rights, including kinship, dowry, estate distribution, division of marital property. It seemed that we spent half of the time dealing with historical legal issue; to be honest, they were not easy for beginners who had no basic knowledge about women's history, but after a term of discussion and study, I learned a lot; at least I am not as naïve as before – believing that women's property was always controlled by male head of household. Essential to the issue of women's property is that different historical backgrounds led to different circumstances.
Although I could not fully understand the content of the module, and sometimes I had to guess the content and the questions that Miss Lu raised by picking up sporadic words and sentences that I knew. Nevertheless, the module still brought me a lot of new knowledge. More importantly, it was veritably a reminder for me to make more effort to brush up foreign languages in order to be able to use them in daily
conversations, not just in class. This is an opportunity that I have never had before and I gained greatly from this module.
How I developed my EMI learning experience
Women Through the Ages was my first attempt to an EMI module. Although I read and write in English sometimes, I am not familiar with English listening and speaking. Thus, I was looking forward to develop and advance the skill of English communication through this course. On the other hand, since my own research interest mainly focus on Chinese women's history, I did not know much about women's history in the West and therefore hoped to learn more about it.
Two things, in particular, of the module impressed me. First, there were more male students in class than I had expected. My own experience, however biased, told me that male students, both undergraduate and postgraduate, were less interested in gender courses. However, in our class, male classmates showed much interest in women's history. The really engaged in discussion and guided reading, which opened up my mind and provided me with a wider range of perspectives. In addition, most of my classmates were good at English, which further inspired me to improve my language skills.
The other part that impressed me was Miss Lu's enthusiasm for teaching and her teaching style. Due to my rather limited English skill, sometimes I could not immediately understand what Miss Lu was saying during the module. I was also often unable to express my thoughts in English, which made me feel very discouraged. However, Miss Lu was always patient with us and complimented us in order to boost our confidence. With much encouragement, I worked hard to improve my English listening and presentation skills, and became more willing to participate in discussions. I benefited greatly from the interactive and inclusive way of teaching and learning.
Throughout the module, I not only learn a lot about Western women's history, but also start to reflect the historical gender issue in our own society. Perhaps it is not necessary for everyone to engage in women's history or gender history, but it is better for us always have the awareness of gender, so we can broaden our horizons.
Last but not least, I believe that EMI courses are a trend for higher education in Taiwan nowadays. Although the EMI policy has just kicked off and bilingual teaching is still relatively new to both teachers and students, it will enhance students' English abilities, and will open up more possibilities for the future education in Taiwan.
The Experience of EMI Course
First, I was not good at English and had a fear of speaking English. However, I felt that I could not continue to not speak English, even though I was in a foreign country, so I decided to take a class conducted in English as a new challenge.
The class I took was "Seminar on Teaching Taiwan History", and we have one rule. It was that one by one, everyone had to give their opinions and questions about the content of the presentation and the article. Also, each week we would take turns presenting as if we were teaching high school students. At first, I often had trouble understanding what the presenters and teachers were saying and wondered what to do. However, as I read each article and spoke in class every time, I felt my fear of English was disappeared. And as another challenge, I also participated in a 3-minute presentation in English organized by the history department. Although I did not make it to the top 3, it was my first time to participate in such a discussion and I thought it was a very valuable experience for me. If I had not chosen the EMI course, I would not have participated in the presentation competition.
We formed a small group and gave a presentation on the subject of Taiwan in 1895. There were three of us, so we split up to present. I presented the part of the census conducted by the Japanese colonial government. I was shocked by the fact that I had never learned about many of these items in Japan, even though they were all related to Japan. I tried to include pictures and illustrations in my presentation, taking into consideration what my classmates had pointed out. Some of my other classmates used the blackboard directly, so I was able to learn how to communicate more easily to high school students.
Inspiring Experience in the Course of Teaching Taiwan History
The Process of Teaching Taiwan History Class
This semester, (Feb.—Jun. 2022) during the Course of Teaching Taiwan History, every class, we had one classmate to teach one topic arranged by time sequence with some research papers in Taiwan History. After 20 to 30 minutes teaching of the presenter, the other would give useful feedbacks to the "twenty-minute student teacher" and share their opinions or questions about the research papers. Our professional "twenty-minute student teacher" would do his or her best to answer your questions.
The process I wrote above should be behaved all in English. It's a course that made us think and communicate in English on the base of Taiwan History knowledge. It is not only a big challenge for me but also for every class member; especially, when we wanted to convey some complex Chinse words or concepts, it racked our brains to speak even one word. After all, we are not native speakers.
Sometimes, forget the grammar or pronunciation, and just try to figure out some keywords in English. Don't worry because maybe there is someone or our Professor Hsin-yi will help you turn the simple keywords to more authentic versions in Taiwan History category. Moreover, you can find some hints or clues from dictionaries or Online-searching. It is a good chance for us to learn more English phrases in the researches of Taiwan History. Those phrases would become your knowledge repository, for one day, when you start to teach Taiwan History in English.
My Topic of Teaching Taiwan History
My topic is "Democratizing Taiwan" based on J. Bruce Jacobs's article "How Taiwan Became Democratic" from his book Democratizing Taiwan(2012). He used 10 factors and a non-factor to explained how Taiwan could turn democratic. I organized them into 3 parts: (1) Social Policy (from Japan Colonial to KMT Regime) (2) Political Situation (After 1970s) (3) A Non- Factor: Presbyterian Church.
After organizing those complex factors into more simple ones, it took me a long time to figure out what kind of historical facts could make students understand the transformation of political situation in 1970s. In the Social Policy part, there is one of factors, "election". It reminded me what I had read in my reference, Kang Ning-hsiang's memoir. Non-party people started to won the elections increasingly from local government to the National Congress in 1970s. Therefore, I planned to make a table of electoral items and some of outcomes from 1950 to 1980. Meanwhile, I also put another political event that influenced Taiwan deeply from both domestic and international level. I expected students could learn the unstable atmosphere of politics in 1970s and have an impression that election is one of historical facts and a perspective make us explain or understand how did the transformation happen.
I hoped in the end of the class, students could remember Chiang Ching-kuo's reform in KMT, the rise fo Kang Ning-hsiang as a non-party councilor in National Congress in 1972 and his dangwai partners' non-violent political movements. It's a long journey to decentralize the political power from the authority to all Taiwan people and we should notice 1970s is an important turning point.
The Practice of Teaching
In the beginning of my teaching, I set a disscussion of what is democracy. I wanted to recall the topic "authoritarian period" last week, and tried to let listeners think the keywords about opposition of authoritarian because those concepts are close to democracy. Their answers included : vote, civil society, struggle of politics and rotation of parties.
Additionally, I spent some time to describe and explain the difference between democratization and Taiwanization. what I mentioned above are some teaching skills from myself. One is to make students create connection from their experience in the past. The other is to make the definition of abstract concepts clearer.
Feedbacks from the Classmates for My Teaching "Democratizing Taiwan"
(1) Suggestions for Teaching Skills and Materials
1. There are many graphs and tables in the PPT. Make those graphs and tables colorful that would be better.
2. The structure of the article "How Taiwan Became Democratic" is not so solid because it seems to be lack of some citations and supporting texts.
3. Introduce more people in dangwai or those who participate in democratic movements might be better.
(2) Questions about Teaching Context
1. What is the definition and limitation about freedom of speech and press?
2. Why Presbyterian Church is a non-factor?
3. If education could harm authoritarian, why the colonizer or the authority would let educational rate become higher?
4. What is the connection between Kaohsiung Incident (Formosa Magazine Incident) and USA GOVT's political pressure?
5. What is the definition of Liberals in Chiang Ching-kuo's KMT reform?
6. What is the historical evaluation of President Lee Teng-hui about democratization? and why he could lead or control all KMT party including those conservatives and military power after President Chiang Ching-kuo's death?
My Feedbacks for This Course
1. Perhaps, we can read some articles about historical teaching methods or examples of teaching plan in English.
2. Sometimes, the contexts from research papers are too complex and detailed to high school students. Therefore, I think we could discuss more about how to adapt a research into a teaching plan. Next, we might meet some questions about what to teach and why students should learn those things.
3. Probably, we can find some ideas from Curriculum Guidelines of social science or historical field formulated by Ministry of Education and historical textbooks for high school students.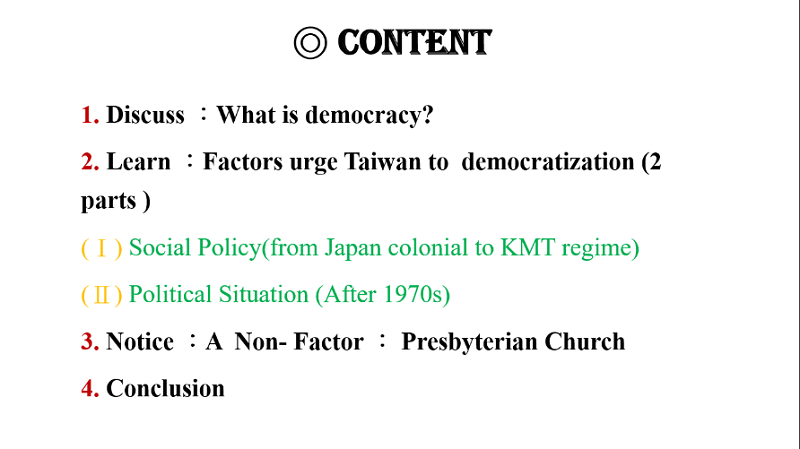 Rethinking of Taiwan History and English teaching
1. Preface
This EMI course report consists of three parts. They are the "Preface," the "Start," and "Experience and Feedback." In the following section: "To Start with," I will express my thoughts and in the third part "experience and feedback," I will talk about my thought and experience in this course which includes the routinely arrangements such as reading articles, presentations, discussions and so on. In the feedback section, I will talk about some points I learned from the course.
2. To Start with
Before I choose this class, I doubt that my English will ever get improved since I stopped any academically practice after I came to NTNU. In fact, my English is very poor and even miserable. Partly because I only received "official" education in school, and had no other experience in practicing English except reading. I was afraid to join this class first because I have no confidence that I can survive the class whatsoever. Furthermore, I know I constantly make grammar mistakes and lack sufficient words when I express my thoughts in English. I constantly express in "Chinese style English" (中式英語) simply because I had no choices.
3. Experience and feedback
However, this class is wonderful for me, and that is my sincere thought about this course. Like what my English teacher in High School had said to me, "the first sentence in the article is the most Important one," I keep it deeply in my mind. Undoubtedly, this class improved my abilities that including speaking, presentation, writing skill and the most important one, the reading skill. Because I am not good at reading English articles, I choose this course to force myself reading English papers. Despite I skipped the last few articles because of pressure and heavy loading from end-of-term, I really learn a lot when I try to read a full and complete English paper. That is a tough challenge for me but I finish it after all. The time and pain bring me a sense of fulfillment. This class also inspires me a lot as I taking the class of the teacher training program and made a teaching program(教案) base of this course . In this class, we are required to think how to present the history that we are familiar with in another language. In this process we need to think and decide what is the important and what is not due to limited ability of ourself and restricted time of presentation. That is the biggest challenge to me, because we are way too familiar with Taiwan history, and as a result, we usually take it for granted and think it boring. Nevertheless, it is not. I want to thank professor again in the end. This EMI course is my first one, it was creative and impressive.
The Challenge of Teaching Taiwan History in English
"Seminar on Teaching Taiwan History " is my first EMI class at NTNU. To be honest, I was very afraid to take this course because my English is not good. However the syllabus of this course attracts me. I used to think that, teaching foreigners Taiwan history in English will be easier than in Taiwanese language because reading the English article is easier than reading the classical Chinese. Nevertheless, through this course, I learned that teaching foreigners Taiwan history was not a simple work either.
Here are two reasons that I think it's a hard work. First of all, speaking English is one of the difficulties I faced. In Taiwan, we read a lot of English articles, but we seldom speak in English. Therefore, it's hard to express personal views clearly in English. As a resuit, not everyone your points. Secondly, some of the words are hard to explain in English, so it's hard to express those words to a foreigner.
In order to reduce those difficulties , I learned some skills from this course. First, try to read the article out loud in English. it makes me become easier to used to expression in English. Secondly, to eliminate the gap between different cultures, it is necessary to make some examples in order to foreigners to know the meaning of certain words in Taiwanese history. For instance, "i-yung " (義勇) is a word in Chinese, but there is not a single word in English corresponding capture the meaning precisely, so to describe this certain system in English, we can tell the foreigners this is a word meaning that the commonly used localy. Through these kind of definitions, I think foreigners will get to know more about our history.
Above all, I think it is an interesting experience to learn and try to teach Taiwanese history in English. What's more, I really enjoyed discussing the opinions with my classmates in the class. Everyone has different historical perspectives, by hearing and comparing their thoughts, I am much inspired to have new thoughts about Taiwanese history.
At the end of this article, I want to talk about my thoughts on the policy of the EMI course at NTNU. I don't think it is necessary for us to learn history in English. That is because English is not the only language we have to learn. For example, learning Chinese history we don't need to read lots of English articles. I know the aim to set up EMI course is trying to make our students more competitive, because English is the common language in the world, but honestly, if you don't do any historical research of English countries or being the teacher or the tourist guide, I don't think everyone have to use English to learn history. In my opinion, if our school want to make us more competitive, giving us more flexibility to choose the teaching language of the course is better than urging the department to set up EMI courses.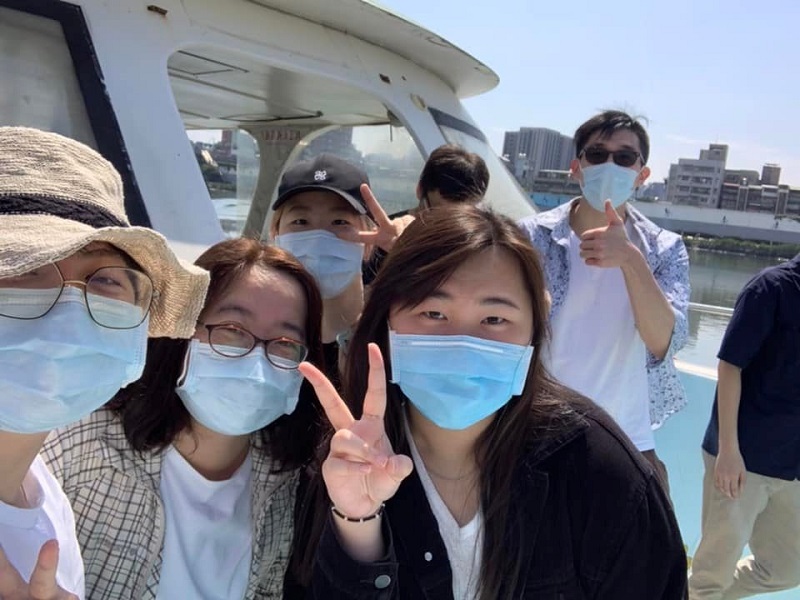 Seminar on Teaching Taiwan History
I had no excuse to state that I had no previous experience of studying the history of Taiwan using English (as I had attended Professor Ann Heylen's "English Readings about Taiwan" in 2019), but when it came to teaching in English, that was definitely something new. At first, the concept of teaching the history of Taiwan in other languages seemed absurd to me. I was concerned that it might result in failing both of its goals in conveying its materials and having proper expressions, which was the opposite of what I hope to see in the future of historical education.
Two major parts made up this course: one was mock teachings, one was feedback. We studied Taiwan: A New History with essays written by Tonio Andrade, Ramon Myers, Wu Jieh-min and more; based on these materials, we designed courses for high school students. This created opportunities for us to accumulate vocabulary for describing specific events and familiar items, such as the "Anti-Services Trade Agreement Protest" and "the rotation of the political parties". We also learned about foreign perspectives on Taiwan over time when we analyzed the structures and the motives behind the articles. In addition, we improved our presentation skills after examining each other's performance. Looking back, we constantly put huge efforts into discussing how to make a class interesting enough to grab the attention of high school students. I thought the reason behind it was always the love for history; an eagerness to disclose its importance to others was there all the time.
What benefited me the most was the consciousness of having an audience. No matter it was for the mock teaching, or giving feedback during the discussion, the mindset was completely different from writing essays on my own. This could be said about the aspect of using English as well; studying Taiwan history in an unfamiliar language gave me the sense of clarifying the context. A casually-used word turned out with an appearance so foreign, that an explanation became a necessary duty, that I was reminded from time to time to keep my choice of words in check. The course became a valuable lesson in raising awareness. Whether it was about the history of Taiwan or myself, I was given the opportunity to examine, to express, to demonstrate in a new light.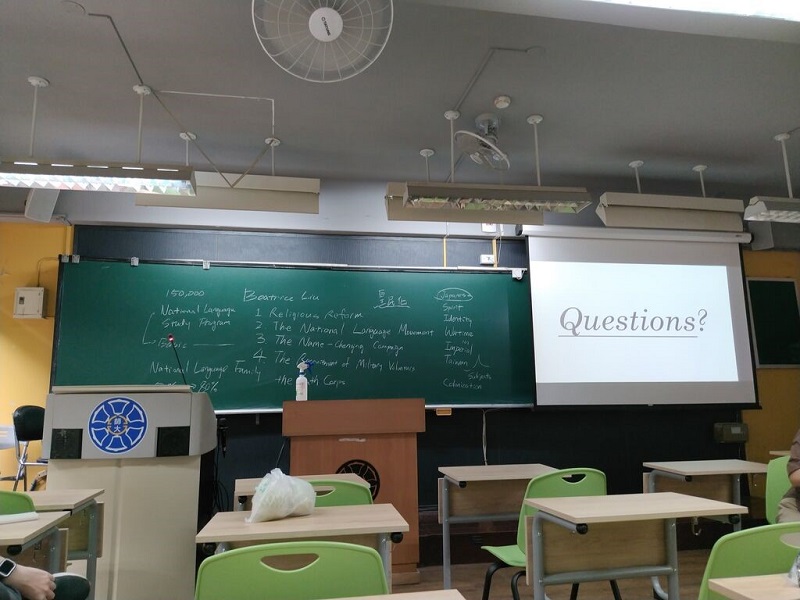 A view of our classroom.
My second EMI course
I have taken two EMI (English as a Medium of Instruction) classes since 2018. The first class was "Contemporary History of Western World (I)," which was taught by Prof. Christoph Thonfeld (陶克思) in 2018. The second class, "Seminar on Teaching Taiwan History," was led by Prof. Hsin-Yi Lin (林欣宜). In this class, there were two goals. One was "learning Taiwan history via intelligible English." Another was "integrating historical studies into teaching." According to these goals, the class was conducted in three parts, introduction, presentation, and discussion.
In the first part, the professor introduced the class and announced the details of the following class schedule. Usually, this part would be no more than 20 minutes. This introduction aimed to reach a consensus between the professor and students making sure that everyone stands on the same page in the beginning. During the COVID-19 pandemic, there were lots of uncertain situations that require constant re-arrangement. Therefore, the professor would discuss with students to make an appropriate decision by respecting every student's schedule. For me, the interaction between the professor and students in this course was harmonious. If I had any questions about the class, I could point them out immediately. Then, the professor would discuss it with all participants in this class. Apparently, in this class, the students and the teacher were equal, which made me feel comfortable and enjoyable. The sense of engagement enabled me to become an active participant in this class.  It is a different experience from other classes.
The second part was the weekly presentation of assigned reading. In this class, every student was assigned a presentation. When the student presents in the scheduled time, he/she has to abstract points from the article and present them clearly in 30 minutes. In my opinion, the presentation was a great chance to have comprehensive training in English skills, such as reading, writing, and speaking. For example, I was assigned to the week of "The Time of Authoritarian Rule" with Murray A. Rubinstein's article, "Political Taiwanization and Pragmatic Diplomacy."
To prepare for the presentation of this, I not only read the assigned article carefully but also studied other research papers, which helped me further understand the background of Taiwanese history in the 20th century. Furthermore, I learned how to choose keywords in Google for specific historical pictures and documents. When it was my turn to present the article, I already read the assigned reading two times and did my best to organize complex ideas from the author into simple sentences.
Apart from the improvement in language and research skills, I also acquired new skills in presenting from other students' performances. There were two things that I learned. One was how to grab the audience's attention by placing appropriate pictures and videos.  Another was making a cohesive logical presentation by focusing only on one point of the assigned reading. To be honest, the latter is more difficult than the former. Because the article assigned to me usually told a general background of a long period in Taiwanese history. In the beginning, I originally intended to conclude all of the points from the authors, but it was impossible. Fortunately, I gradually overcame these obstacles and learned new skills by watching classmates' presentations one by one. Take my own presentation for example, I decided to choose Taiwan's democratization as my main aspect and focus only on Taiwan's political transition. Given this, I divided my presentation into three parts. The first part is a brief story that connected my father's story with this period for grabbing the attention of the audience and making a clear image of my presentation. In the following parts, I separated my presentation into two eras of main dominant figures in Taiwan's politics. One is the era of Chiang Ching-Kuo from 1972 to 1987. Another is the era of Lee Teng-Hui from 1988 to 1996.
In the last part, we often spent 2 hours on the discussion. After the appointed student's presentation was finished, other students must provide feedback, such as questions or comments on the presentation. From my point of view, the two-hours discussion is the most important part of the three. I always indulged in the discussion between my classmates and the professor. For one reason, I had an opportunity to share my questions and opinions with others whose research was focused on history.
Then, they would give me very constructive feedback, which helped me a lot. Sometimes, their ideas inspired and encouraged me to do more research before the class. I appreciated their honest and sincere advice. For another reason, since this class was taught in English, all of the conversations improved my English speaking and listening skills. It is not merely for me to revise my English grammar, but also to learn new vocabulary and correct my pronunciation.
In conclusion, this class is a special experience in my life. Even though the EMI class may not be as easy as those classes taught in mother tongues, it is definitely worth the time to join an EMI course in the Department of History.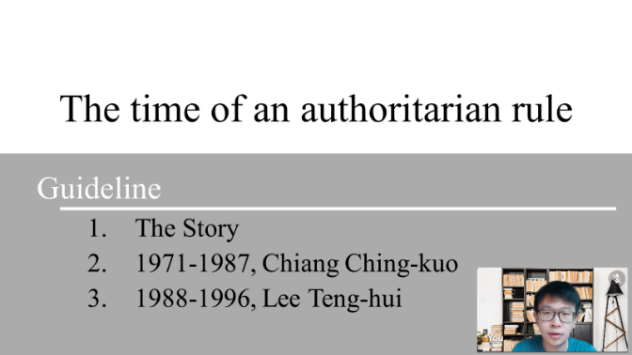 The presentation mode in google meet
The Review of 'Seminar on Women through the Ages'
Using English in the whole class was a new challenge for me, though it is indeed exciting. The module was divided into three sections, namely lecture, guided reading and discussion. The lectures given by Miss Lu and the guided readings represented by other classmates were relatively easy to tackle. The discussion part was the hardest since I struggled to express my thoughts of and ideas about the assigned reading in comprehensive English. I really grateful for other classmates' patience and tolerance, which gave me the courage to make attempts in talking in English. With English-friendly environment, I find myself progressing a lot in English speaking, which I cannot be more delighted about.
When I first saw the name of this module, I thought it would focus on women's striving for equal status through the ages, but I soon noticed that it was more than that. Women pursuing equal rights was only a part of it. Miss Lu showed us what was more important – the complicated gender relations spanning from classical antiquity to contemporary. It was a universally acknowledged truth that women, in most historical periods, were subordinated to men because of patriarchy. Women were deemed as a way to preserve and gain the families' properties or interests. Whereas women stood on an inferior status in all aspects, under some circumstances, they could still run business and earn their own money. There were also some institutions provided women the opportunities to live on their own, without the supervision of and help from men. This 'quasi-independence' phenomenon emphasized through the module was quite insightful, for it shows how women strove for their own rights within the framework of patriarchy. Indeed, women were subordinate to men through and through, but this very truth made every women who tried to live outside the gender norms respectable.
Another noteworthy thing is the assigned readings. Miss Lu gave us plenty reading materials about medieval England's judicial system and legal practices, which was difficult to me because my expertise is 20th-century China. However, I consider this a unique and riveting feature of the curriculum. The readings represent the complexity of gender relations for legal practices and law reflected the certain conceptions and ideas which the contemporaries had. For instance, the practice of transmitting property and the procedure of enforcing the deceased's will show how the contemporaries saw property and family. The module spent much endeavor on the Middle Ages for it played a pivotal role in European history, so a thorough understanding of the Middle Ages helped us comprehend not only the former, but also the later historical issues. In my opinion, the assigned texts are acceptable as far as I am concerned. Nevertheless, it would be better if some introductory texts about the Roman and the Common Law system are introduced, so that the students could comprehend the reading with more background knowledge.
Review of EMI course
I have been interested in Gender Studies since high school, but there are not many courses about Gender History in Department of History. I've been here for four years, and the only one related is 'Women's History of China' given by Professor Li-yueh Lin. Thus, I was so excited when finding this EMI course 'Women Through the Ages' on course map  that I decided to take this class immediately.
At first, although I had passion for this topic, I was worried that my English would not be good enough to discuss the issues about Gender History when I am not even confident to talk about it in Chinese. However, Miss Lu always encouraged us to try our best, and told us that there was no 'poor English', suggesting that we should not be insecure about our own English ability as we were not natives, and it is bound to take much endeavor to practice English. It gave me a lot of courage to elaborate the thoughts popping up in my mind and put it in a cohesive way.
The module required us to read an English paper every week, which, for me, was quite challenging due to my slower reading speed. Sometimes I could not finish the article before the class, but Miss Lu was very tolerant and did not push too much on us, which soothed my pressure a lot. In addition to assigned readings, each of us had to pick a topic to do guided reading once. It was the first time that I did a presentation in English lasting for thirty minutes. I was so nervous at first, but when I finished, I felt a sense of accomplishment. I realized that I am actually more capable than I have ever imagined. Discussing certain academic topics in English, which was another requirement of the module, used to be beyond my imagination. We barely uttered few words, and were always shy to express our opinions, so Miss Lu tried another method -she divided us into two groups randomly, which indeed made us more relaxed and more willing to express our ideas since the pressure of speaking in front of a big group was alleviated. The new method also provided us more time to express and defend our own arguments, and to understand other's opinions.
In a nutshell, with the guidance of Miss Lu, I've not only learned a lot about the Women's History of the western world, but also made some progress on my English skills due to the discussion and presentation. It is such a pleasure to dive in the field of Women's History.